« Posts tagged pfSense
Hello everyone, The new version 2.4.4 if finally here. You can check what's new here.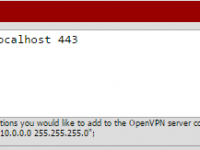 Sharing a Port with OpenVPN and a Web Server Routing your entire internet traffic over VPN when away from home is almost a must. Especially when using public WiFi hotspots or hotel internet. Hello all, long time no see. I have a lot of other engagements lately and can't reach to our beloved topic of […]
It's been a while since I've been digging in pfSense. A lot of things had happened. The good news is that currently I've got a few projects related to the topic and will make a few posts about them. Next post will be related to upgrading to 2.2 from 2.1.5. In the meantime you can […]
The 2.0 release is finally available. Here is the news: 2.0 Release Now Available! My experience so far is good, I've already upgrade some of my machines. You can take a look at the upgrade process from RC3 to RTM here: Before performing any kind of upgrade read carefully the Upgrade Guide!!!
Introduction If you are in a café or another place with free wireless Internet access you are under a security risk. Your traffic can be monitored, captured and analysed. Your sensitive data can be stolen or your laptop infected with malicious application. To avoid as much as possible of the above we can route all […]
Introduction After having  enough of tests with the RC3 in virtual environment, I decide to upgrade my pfSense 1.2.3 appliance running on Alix2d13. Considering my Dual WAN setup with load balancing and some other rules, I didn't really want to lose any of my configurations during this process. If I made in-place upgrade what is […]
Introduction After writing OpenVPN with LDAP authentication on pfSense 2.0 RC1, a reader of my blog shared some problems with configuring OpenLDAP on CentOS.  So I decide to build such a setup and test. Scenario The scenario is as follows, authenticating users requiring access to the OpenVPN server against OpenLDAP service running on CentOS. Setup […]
These days I've looked at the tweets of Scott Ullrich and what catch my attention is the mentioning of pfCenter several times. As written here: pfCenter is the product we are working on to allow administration of multiple pfSense boxen from one GUI / Appliance. and here pfCenter now supports tags! Later this summer we […]
In my previous posts we've Install pfSense 2.0 RC1 on VMWare Workstation 7 and adjusted the memory of the Virtual Machines in pfSense 2.0 RC1 on VMware Workstation 7.1.4 – RAM size. Now let's continue with the setup of the Virtual Machine with the installation of VMware Tools for pfSense. For that purpose go to […]